So Dita Von Teese's divorce to Marilyn Manson is final... Blah blah blah...
I figured I would post some Dita information along with some random images of her for those who may have wondered to themselves - "Who's that girl"?

Here's some information gathered from Wikipedia.com:
Dita Von Teese (born Heather Renée Sweet on September 28, 1972) is a popular American burlesque artist, model and actress.
She is one of the instigators of the burlesque revival and has been a considerable factor in bringing burlesque to mainstream attention. Her fame increased during her relationship with Marilyn Manson, whom she married and subsequently divorced.
Early life
Dita Von Teese was born in Rochester, Michigan. Her mother was a manicurist and her father was a machinist.
Von Teese is well known for her fascination with 1940s cinema and classic retro style. This began at a young age and was fostered by her mother, who would buy clothes for Dita to dress up in. Her mother was a fan of old, Golden-era Hollywood films, and it was from her that Dita developed a fascination with the actresses of that day, especially Betty Grable, an actress that she frequently cites as her favorite.
She was classically trained as a ballet dancer from an early age, and danced solo at age thirteen for a local ballet company. Though she originally wanted to be a ballerina, Von Teese states that "By 15 I was as good as I'd ever be". She was later to incorporate this element into her burlesque shows, where she frequently goes en pointe.
At age twelve she moved from Michigan to Orange County, California with her parents and her two sisters. Von Teese attended University High School in Irvine.
As a teenager, Von Teese's mother took her to buy her first bra, made from plain white cotton, and gave her a plastic egg containing a pair of wrinkly, flesh-coloured tights. Von Teese says she was disappointed as she had been hoping to receive beautiful lacy garments and stockings, of the type she had glimpsed in her father's Playboy magazines. This fueled her passion for lingerie. She worked in a lingerie store as a salesgirl when she was fifteen, and eventually as a buyer. Some people believe that this is the store where she purchased her first corset, however Dita states in her book that she purchased her first corset in a sex shop. Von Teese has been fond of wearing elaborate lingerie such as corsets and stockings since.
In college Von Teese studied historic costuming and aspired to work as a stylist for period films. She is a trained costume designer.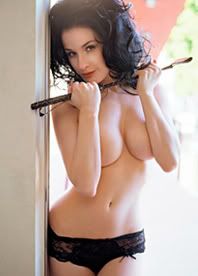 Career
Von Teese began her career in a local strip club when she was nineteen. Disappointed with the lack of originality in all the other strippers' acts, Von Teese created a vintage-inspired outfit, with beehive hairstyle and elbow-length gloves, piquing the interest of the clientele.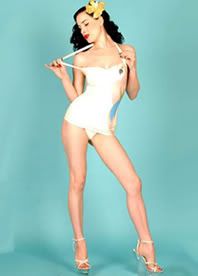 Fetish and glamour modeling
It was during this time at the strip club that she began some glamour modeling, before she eventually became a fetish model. Her retro pin-up look, frequently emulating Bettie Page in photo shoots, set her apart from most other fetish models.
Her official website, often referred to as one of the first model sites on the internet, was created in 1992. Von Teese has maintained meticulous care to own the copyright to the majority of her images, very aware of what became of models, such as Bettie Page, who did not.
Von Teese achieved some level of recognition in the fetish world as a tightlacer. Through the wearing of a corset for many years, she had reduced her natural waistline to 22 inches, and can be laced down as far as 16 and a half inches. A diminutive person already, Von Teese stands at only 5'3" and weighs 105 pounds.
Von Teese appeared on a number of fetish magazine covers, including Bizarre and Marquis . It was around this time when she appeared, bound and partially suspended, on the cover of Midori's book, The Seductive Art of Japanese Bondage.
Von Teese was featured in Playboy magazine in 1999, 2001 and 2002. It was her Playboy cover in December of 2002 that gave her her last name. Originally known simply as "Dita", a tribute to silent film actress Dita Parlo, Playboy insisted she use a last name. She picked "Von Treese" out of the phonebook, but it was misspelled "Von Teese". Dita, preferring the typo, adopted it as her name. Dita says that it is her appearances in Playboy that finally won her father's respect for her profession.
The German metal band Atrocity revealed that the cover model for their new album, Werk 80 II, will be Dita Von Teese. The album is due in 2008.


Burlesque
It is Von Teese's burlesque routines that she is best known for, and is frequently dubbed "the Queen of Burlesque" in the press. Von Teese began performing burlesque in 1993 and, as a proponent of New Burlesque, has helped to popularize its revival. In her own words, she "puts the tease back into striptease" with long, elaborate dance shows with props and characters, often inspired by 1930s and 1940s musicals and films. Some of her more famous dances include numbers involving a carousel horse, a giant powder compact, a filigree heart and a clawfoot bathtub with a working shower head. Her feather fan dance, inspired by burlesque dancer Sally Rand, features feather fans that are the largest in the world and are now on display in Hollywood's Museum Of Sex. Her signature show features a giant martini glass.
Her burlesque career has included some memorable performances, including once performing at a benefit for the New York Academy of Art wearing nothing but $5 million worth of diamonds. Additionally, Von Teese became the first ever guest star to perform at the Parisian Crazy Horse cabaret club in the show's history when she appeared there in October, 2006.
Cameron Diaz performed a tribute to Von Teese's martini glass routine in the film Charlie's Angels: Full Throttle. Von Teese's name appears in the credits, listed under "Special Thanks". It is rumoured that this was only added after Dita threatened to sue the film makers for stealing her idea.
Von Teese's first book, which consisted of her opinions on the history of burlesque and fetish, Burlesque and the Art of the Teese/Fetish and the Art of the Teese, was published in 2006 by HarperCollins. Vanity Fair called her "a Burlesque Superheroine."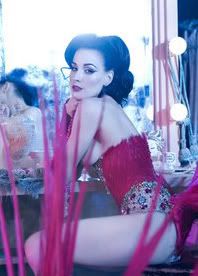 Acting
Von Teese is also an occasional actress. In her early years she appeared in fetish-related movies, such as Romancing Sara, Matter of Trust, in which she is billed as Heather Sweet, and also in two films by Andrew Blake: Pin Ups 2 and Decadence.
In recent years she has appeared in more mainstream features, such as the 2005 short film, The Death of Salvador Dali, written by Delaney Bishop, which won best screenplay and best cinematography at recent festivals, including SXSW, Raindance Film Festival and Mill Valley Film Festival, and Best Actress for Von Teese at Beverly Hills Film Festival. She is due to appear in the upcoming feature films Saint Francis and The Boom Boom Room, both expected in 2007.
In addition to this, she has appeared in a number of music videos, including the video for the Green Day song "Redundant", the video for Zip Gun Bop by swing band, Royal Crown Revue, Agent Provocateur's video for their cover of She's Lost Control, and performed her Martini Glass burlesque routine in the video for "mOBSCENE" by Marilyn Manson.
However, Von Teese has said that acting is not at the top of her agenda and she would only take roles that she feels are right for her, stating, "I don't understand why women feel the need to go into acting as soon as they become famous...But I suppose if the part were aesthetically correct, then maybe I could consider it."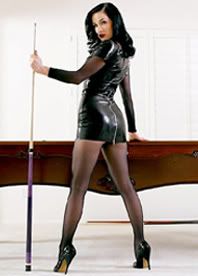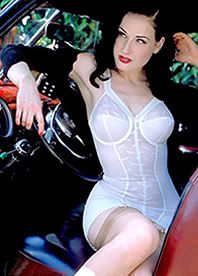 Fashion and modeling
In recent years, the fashion world has come to accept Von Teese and her retro look, and she has appeared on a number of best-dressed lists. Von Teese frequents the front row of fashion shows, particularly
Christian Dior
and
Marc Jacobs
, labels she is often seen wearing.
She has also done various catwalk work. During Los Angeles Fashion Week, Spring 2004, she modeled for former-club kid Richie Rich's fashion label, Heatherette. In 2005 she appeared in the Autumn/Winter Ready-to-Wear show for Giambattista Valli, a former designer for Ungaro, in Paris. In the 2006 Milan Fashion Week, Von Teese was on the runway, opening for the Moschino diffusion label, Moschino Cheap & Chic, autumn/winter 2006/7 show. In 2007, she appeared twice in the Jean Paul Gaultier Haute Couture show during the Paris Fashion Week. Additionally, she has starred in several ad campaigns. She appeared in Vivienne Westwood's spring/summer 2005 collection adverts and became the face of Australian clothing range Wheels and Dollbaby for their 2006/7 Spring/Summer advertising campaign. Currently, she is a spokesmodel for MAC Cosmetics. Von Teese has appeared in Vanity Fair, Vogue, Elle, and international issues of nearly every fashion magazine.
In spite of this, Von Teese states that she never uses a stylist. "The one time I hired a stylist, they picked up a pair of my 1940s shoes and said, "These would look really cute with jeans." I immediately said, 'You're out of here.'" She does her own make-up, and dyes her naturally blonde hair black at home.
She has also campaigned on behalf of People for the Ethical Treatment of Animals (PETA), and appeared in their ads.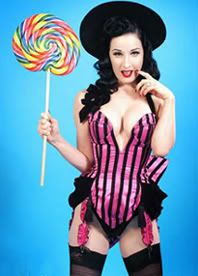 Personal life
Von Teese currently resides in Hollywood. She is a collector of vintage china, particularly eggcups and tea sets, and she drives a 1939 Chrysler New Yorker and a 1965 Jaguar S-type.
Von Teese frequently mentions that her best friend is fellow burlesque performer, Catherine D'lish, who designs all of Von Teese's burlesque costumes.
Prior to her marriage, Von Teese had been romantically linked to vocalist/guitarist Mike Ness of Social Distortion and to actor Peter Sarsgaard. She has also admitted to having several lesbian experiences including a long-term relationship with a woman when she was 20.


Relationship with Marilyn Manson
Marilyn Manson had been a long time fan, and was a member of her website. They first met when he asked her to dance in one of his music videos. Though she was unable to, the two kept in contact. On Manson's 32nd birthday, in 2001, she arrived with a bottle of absinthe, and they became a couple. Manson proposed on March 22, 2004 and gave her a 1930s, 7-carat, European round-cut diamond engagement ring.
On November 28, 2005, they were married in a private, non-denominational ceremony in their home. A larger ceremony was held on December 3 at Gurteen Castle in Kilsheelan (County Tipperary), Ireland, the home of their friend, Gottfried Helnwein. The wedding was officiated by surrealist film director and comic book writer Alejandro Jodorowsky. They reportedly exchanged vows in front of approximately 60 guests, including burlesque sensation Catherine D'lish, Lisa Marie Presley, Eric Szmanda, Jessicka (Ex-Jack Off Jill) of [Scarling] and Christian Hejnal also of Scarling. She wore a royal purple silk taffeta gown, made by Vivienne Westwood plus a tri-corned hat designed by Stephen Jones and matching Mr. Pearl corset. Moschino designed an additional wardrobe for the rest of the weekend, exclusively for Von Teese. The reception music was provided by the retro German band "Palast Orchester mit Max Raabe". Guests were invited to participate in skeet shooting, archery and falconry in the days following the wedding. The wedding pictures appeared in the March 2006 edition of Vogue under the heading "The Bride Wore Purple".
The couple lived in Laurel Canyon with their four Devon Rex cats, Lily, Aleister, Edgar and Hermann, and two dachshunds, Greta and Eva.
On December 29, 2006 Von Teese filed for divorce from Manson citing "irreconcilable differences." Von Teese left their house empty-handed on Christmas Eve, and was not able to get in touch with Manson to inform him of her intentions of divorce. In an interview with The Daily Telegraph, Von Teese says "I wasn't supportive of his partying or his relationship with another girl. As much as I loved him I wasn't going to be part of that". The 'other girl' is believed to be 19-year-old actress Evan Rachel Wood, with whom Manson has continued his relationship after his divorce from Von Teese, despite scathing comments from critics. Von Teese also stated that she gave Manson an ultimatum, but says "it didn't work. Instead, it made me the enemy." Von Teese is not seeking spousal support and seems to have no interest in his assets. The news broke for the public and for Manson on his birthday on January 5, 2007, when he was served the divorce papers.
"I think it's unfortunate that he's had to exploit our divorce for the sake of record sales, but you do what you gotta do, I suppose," muses Dita. "I think most people at this point understand what happened and what they're dealing with when he's doing interviews drunk and offering journalists drugs. It kind of tells you what I might have been up against. I'm just trying to put it past me, I'm happy to be a single girl and have that drama out of my life."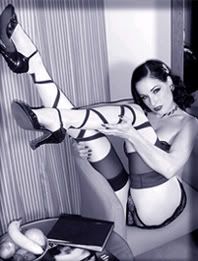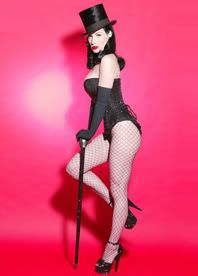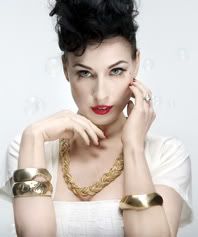 Be sure to visit Dita's official site at Dita.Net - Ace:)