OK, so it's been quite a while since I've had a 'Jam of the Moment' over here @ Ace Lounge, but I must point this track out to those who may not be aware of it.
In a world filled with cookie-cutter crap, it's often discouraging finding new tracks that move me these days. That said, I must say with conviction that this new installment of 'Ace Lounge's Jam of the Moment' is what they used to refer to as a 'heater', 'off the chain', or 'dope'. Regardless of what the adjective of the moment is, let me just say that I like this song... ALOT.
It's ESTELLE (featuring Kanye West) - "American Boy" (produced by Will.i.Am) : Homeschool/Atlantic Records USA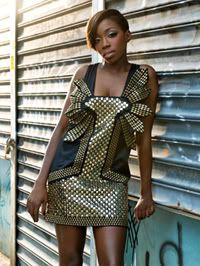 This is one of those songs that just grabs me the first time I hear it. Great groove, nice melody, unique vocals. The kind of chune that'l get stuck in yer head after one listen.

A little background on Estelle:

Estelle is from The UK. She released a full length album back in 2004 on V2 Records titled "18th Day". The album is quite good actually, but although she received a few music awards in The UK, the album didn't break through here, similar to Ms. Dynamite's album. Why didn't it? Because in my humble opinion, as ridiculous as it may sound, the American record-buying public does NOT like their R&B/Hip-Hop artists to have an English accent. (Floetry/Ms. Dynamite/Lily Allen, etc)
In any event, like I stated above the track is produced by The Black Eyed Peas' frontman Will.i.Am. He used the same instrumental for a track on HIS album titled "Impatient". Perhaps he sold the track to be used on the Estelle song or something along those lines... People who read my blog regularly may know that I am not really a big Kanye fan, but his rap works on this joint.
Estelle's next album titled "Shine" drops on May 6th, 2008 - which is WAYYYYY too far away in my opinion. With "American Boy" about to explode, 3 months is just simply too long to wait to capitalize on the single's buzz. Hopefully they'll push it closer when/if this song blows here.
Anyways, that's what's up. The current 'Jam of the Moment' on Ace Lounge is "American Boy" by ESTELLE!
Have a listen to a snippet below, and check out her video blog as well.
Peeeeeeeeace - Ace:)
.